Tutorial - [ The Boxing Club ]
Club Licenses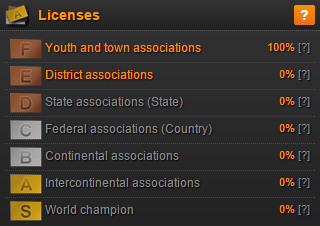 Every club must obtain
boxing licenses
to register the boxers for associations and ranking fights. You also need to have the appropriate license level for your club to buy boxers with a particular license from the transfer market.
Clubs with license

can for example only register their boxers for associations with license

.
Licenses can be obtained by winning
license fights
which take place during specific
license days
.
Requirements to gain the different licenses:


Automatically when creating a club



1 license fight won



2 license fights won



3 license fights won



4 license fights won



5 license fights won



8 license fights won