Tutorial - [ The Boxers ]
Daily Training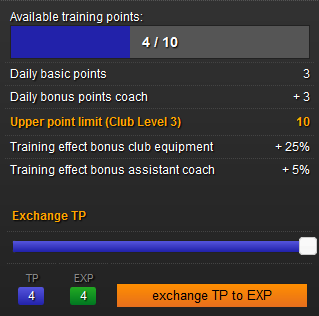 Boxers receive a certain number of
training points (TP)
each day. They can be used for:
attributes, weight, stance, style and tactics
. They can also be converted into
experience points (EXP)
.
The number of
training points for each day
is calculated by taking the daily basic number of points and adding a number of bonus points depending on the level of the coach. Training points not used are kept to the next day, but remember that the
total number of training points
have an upper limit based on the
club level
.